The First Annual Thanksgiving Day Football Breakfast was held on Nov 26th at Fairchild Wheeler Golf Course.  Mike and Nancy Szwejkowski from The First United Church of Christ Legacy Committee were honored for their support of the Field of Dreams Foundation.
Mike, a graduate of Bassick, received a team jersey with his old number on it.  He is shown here with the Captains of the Bassick football team.  Nancy and Mike were later joined by Marge Hiller and Neil Kavey in appreciation of their generosity.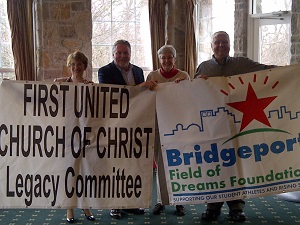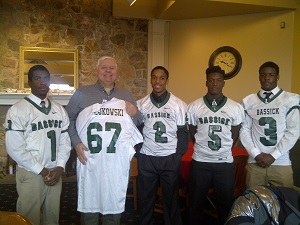 Central Gets A Leg Up On Harding
Junior quaterback Mykel Morris led Central to it's 16th straight Thanksgiving Day win over arch rival Harding 28-20.  Morris was the recipient of the John Johansen Award as the game's outstanding player.  Harding still leads the all time series 50-39 with 4 ties.
Bullard-Havens Gets Stuffed By Bassick
Jihad Whitaker scored three touchdowns and ran for 227 yards to help Bassick to a 35-16 win over Bullard-Havens. Vochan Fowler and Juian Fyffe combined for another 192 yards on the ground for the Lions.
Bullard-Havens finished the season 6-5, while Bassick improved to 3-8 for the year.